Part 1
Type 1 system stuck in the upgrade interface
Please disconnect the Ethernet cable to the router, and default the system.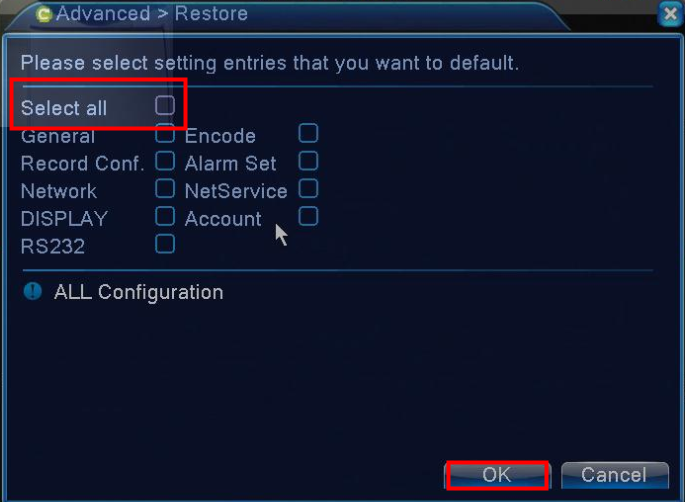 After rebooting the system and it works well, you need to set a new password and don't use the default one.
Here is the link for password change in case you need:
https://support.sannce.com/hc/en-us/articles/900000452826
When you finished the step, you can plug the internet cable back.
One more tip, If you can close the DMZ and UPNP feature in your router, this problem will never happen.
Type 2 system stuck in the booting logo
Here are some methods for troubleshooting:
a). Please unplug the Ethernet cable from the system, then restart the system without Ethernet cable to have a try.
b). If still not working, Please remove the hard drive from the system, then power on the system separately to have a try.
c). If still not working, please use another power supply (with the same voltage) for the system to have a try. While the system comes back, kindly please change the password for your system, it seems the hack attract your device, please make the password a little complex. don't easy as empty


Part 2
there is no signal on the monitor
1. Do you notice if the system gets power? if it gets power, the LED in front of the DVR will be lit up.
2. Did you hear a beep when the system powers on? It is very important.
3. Are you using the HDMI port on DVR to connect DVR to a monitor or TV? if yes, could you please try VGA port on DVR?
4. Make sure your TV is in the right mode, HDMI mode for HDMI cable, VGA mode for VGA cable, not any other mode. You can monitor the remote control to switch it.
5. Please remove the hard drive from the system, then power on the system separately to have a try.
6. Can you kindly change another power supply to have a try? you can use the cameras instead.
7. Please submit a request in the below link:
https://support.sannce.com/hc/en-us/requests/new