Applies to: I21FF/I41FK
1. Confirm your Wi-Fi status
1). Check if your wireless router has enabled DHCP and if it is the 2.4 GHz network. (The device does not support 5GHz Wi-Fi currently.)
2). Ensure your smartphone has been connected to the wireless router.
3). Ensure there is no special character in the Wi-Fi name and password, and their length does not exceed 30 digits.
2. Check the device connection
2.1 Please check if the device can get power.
1) Press and hold the power button for 5 seconds. If the device still has power, the work indicator will slowly flash red light, which indicates that the WIFI is waiting to be configured.
2) If the device does not respond when you press the power button, which indicates the power is not enough to start. Please plug in the DC5V power supply for 15 minutes. Then, the charging indicator is in steady red (When the battery is full, the indicator will keep in blue).
Note: The DC5V power supply is not included in the package.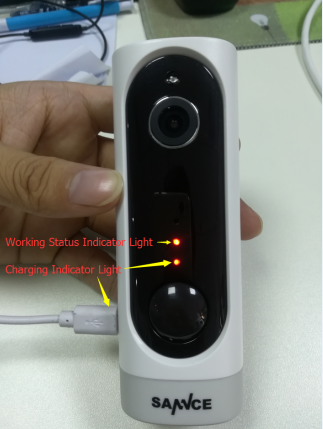 2.2 Indicator description
1). Working Indicator description.
Slow red light: waiting for pairing wifi.
Fast red light: pairing wifi.
Solid blue light: paired success.
Operating status:
Red light on 1 second and turn solid blue:
The PIR detects that there is a human body, and wakes up the device to enter the recording state
Solid blue: View live image in app
2). Charging indicator description
Not charging full is in solid red, Charging full is in solid blue.