Applies to:
DL41B/DL81B/DL41A/DL81A/DL41D/DL81D/DH81S/DH81X/DH81NG/DM41D/DM41A/DM81A/DN41D/DN81D/DN41S/DN41NA/DM41H/DM81H/DM21O/DM31O/DE41N/DE81N/DN81NB/DM81Z/DM61W/DG81CP/DG81CQ/DH81NK/DG81CR/DH41NK/DM41G/DN41CJ/DN81BJ/DN61EC/DG81W/DG61X/DG41T/DT81DQ/DT41DC/DT61ER/DG41BE/DG81BE
The reason why monitor can see camera's image but they are black&white and not colorful in the daytime is because cameras may be incompatible with DVR and the video standard of the DVR conflicts to the cameras.
Here are the steps to change the video standard and the signal on the DVR to solve the problem:
1. Please go to the Main Menu-->System-->General to check the video standard. If it is PAL now, please try to change it to NTSC.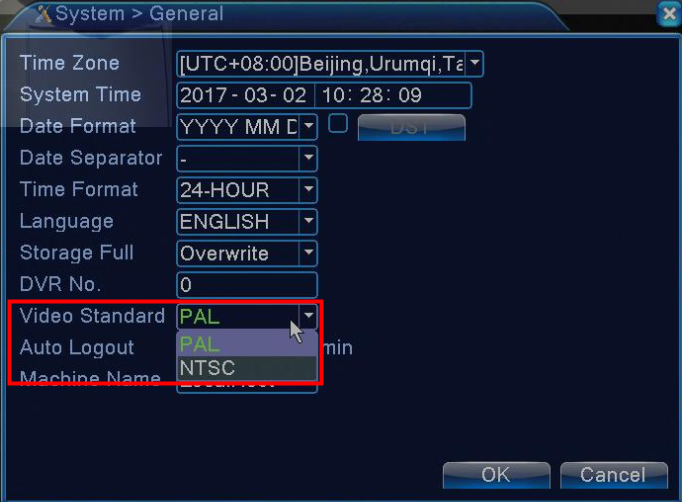 2. After confirming the video standard and the image is still back and white, please right click to call the Main Menu, and go to TVI/AHD to adjust the signal input.
If your DVR doesn't have a TVI&AHD option, please tell us your DVR and camera's model number.
DVR's model can be found at the bottom label and the camera's can be found on its label.