Applies to:
DL41B/DL81B/DL41A/DL81A/DL41D/DL81D/DH81S/DH81X/DH81NG/DM41D/DM41A/DM81A/DN41D/DN81D/DN41S/DN41NA/DM41H/DM81H/DM21O/DM31O/DE41N/DE81N/DN81NB/DM81Z/DM61W/DG81CP/DG81CQ/DH81NK/DG81CR/DH41NK/DM41G/DN41CJ/DN81BJ/DN61EC/DG81W/DG61X/DG41T/DT81DQ/DT41DC/DT61ER/DG41BE/DG81BE/NP41F/N43SU/N44SU/N48PZ/N481U/N441U/N44PBD/N461W/N48PAU
Here is CMS software for Windows computers.
http://www.sanncegroup.com/document/Computer%20software/General_Bate_CMS_V3.1.0.9.T.20190306.exe
Then you can follow the steps below to add NVR/DVR to your CMS.
1. Plug a router into DVR with network cable. Make sure the computer and DVR are connected to same router and in same network.
2.Download CMS and install it on your computer according to the instruction in the download file.
3. Double click the icon to open CMS, the default User Name is super, password is blank (no password).
4. You will see the interface as below when you log in system for the first time.
5.To add DVR/NVR, you can click System menu on the bottom right corner. Then go to Device Manager, click ADD AREA to create a zone.
Name the zone yourself and click OK.
6. After adding area, click the area name you created then click
to add your DVR/NVR.
Device Name: name it yourself
User Name/Password: default is admin and no password, same as your DVR
Click " OK" after you have done above parameters, you could double click to view the cameras..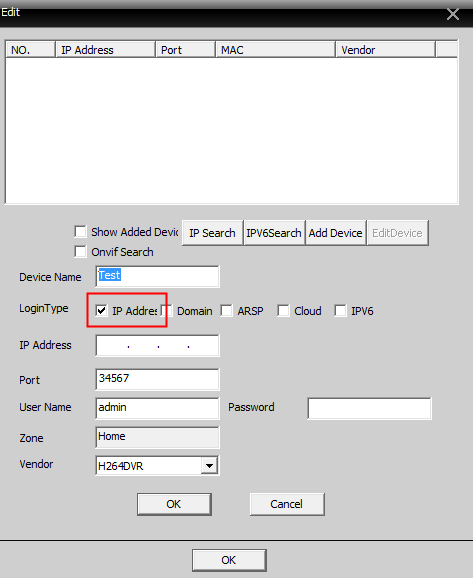 7. After you add DVR successfully, you can view and manage your DVR on CMS.