Applies to:
DL41B/DL81B/DL41A/DL81A/DL41D/DL81D/DH81S/DH81X/DH81NG/DM41D/DM41A/DM81A/DN41D/DN81D/DN41S/DN41NA/DM41H/DM81H/DM21O/DM31O/DE41N/DE81N/DN81NB/DM81Z/DM61W/DG81CP/DG81CQ/DH81NK/DG81CR/DH41NK/DM41G/DN41CJ/DN81BJ/DN61EC/DG81W/DG61X/DG41T/DT81DQ/DT41DC/DT61ER/DG41BE/DG81BE
This is only the video device inside, if you would like to have audio, Kindly please ready the extend audio device by yourself
1. Please confirm your recorder has RCA red audio cord at the back of the recorder.
2. Please connect a microphone to the recorder by audio cable.
The microphone should be put next to the camera so that that camera's image and sound are synchronized.
Please use a long audio cable to connect to microphone and recorder's audio-in port.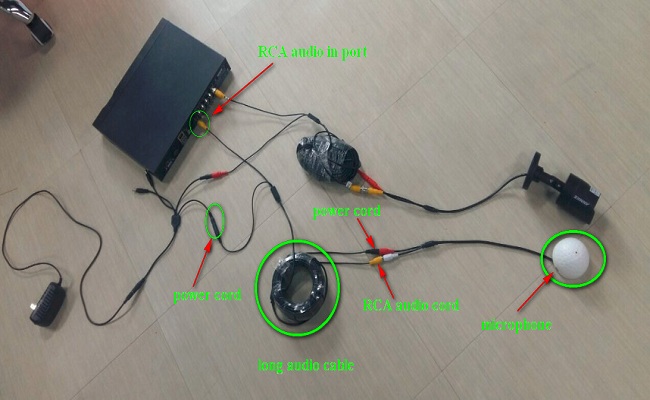 3. Please refer to this picture below to enable audio.
You can also connect a speaker into the audio-out port of recorder.
Here is an instruction about sound function.