Applies to:
DL41B/DL81B/DL41A/DL81A/DL41D/DL81D/DH81S/DH81X/DH81NG/DM41D/DM41A/DM81A/DN41D/DN81D/DN41S/DN41NA/DM41H/DM81H/DM21O/DM31O/DE41N/DE81N/DN81NB/DM81Z/DM61W/DG81CP/DG81CQ/DH81NK/DG81CR/DH41NK/DM41G/DN41CJ/DN81BJ/DN61EC/DG81W/DG61X/DG41T/DT81DQ/DT41DC/DT61ER/DG41BE/DG81BE
1. Please confirm your recorder has RCA red audio cord at the back of the recorder.
2. Please connect a microphone to the recorder by audio cable.
The microphone should be put next to the camera so that that camera's image and sound can be picked up.
Please use a long audio cable to connect to microphone and recorder's audio-in port.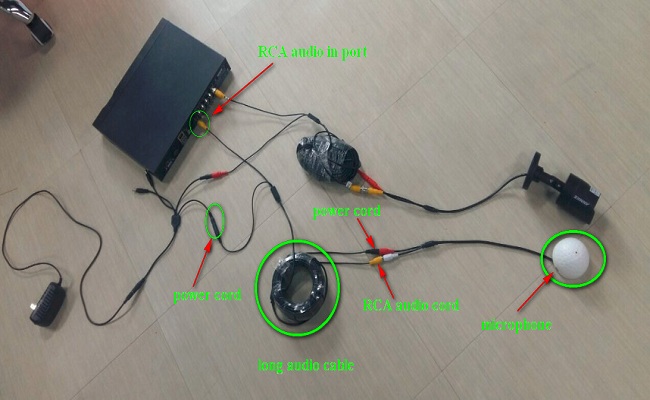 3. You can also connect a speaker into the audio-out port of recorder to play the audio.