Applies to:
DL41B/DL81B/DL41A/DL81A/DL41D/DL81D/DH81S/DH81X/DH81NG/DM41D/DM41A/DM81A/DN41D/DN81D/DN41S/DN41NA/DM41H/DM81H/DM21O/DM31O/DE41N/DE81N/DN81NB/DM81Z/DM61W/DG81CP/DG81CQ/DH81NK/DG81CR/DH41NK/DM41G/DN41CJ/DN81BJ/DN61EC/DG81W/DG61X/DG41T/DT81DQ/DT41DC/DT61ER/DG41BE/DG81BE
If you find your DVR can not show any camera's image on monitor or TV and it shows No config or offline in the middle of the screen, please try the following method to fix it.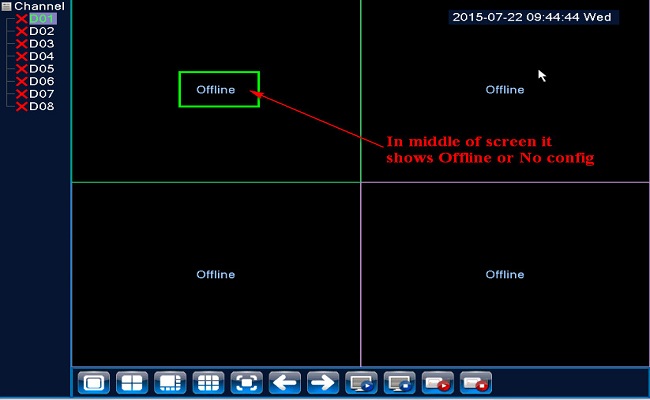 Please login system and go to the Main Menu-->System-->Digital-->Channel Type and select the first option on the list. Finally, click OK to save your setting. The system will reboot. After rebooting, you can see the camera's image.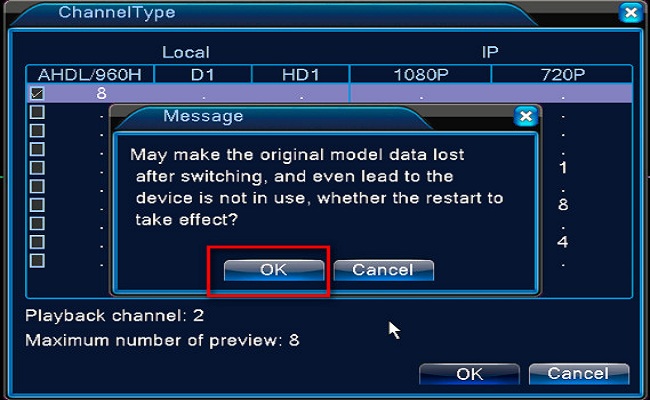 Please note that don't change any setting for the Channel Type of the system if the problem is solved.